print
The Huffington Post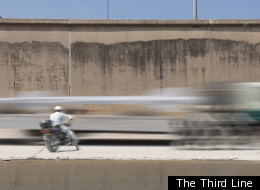 The Third Line Gallery in Dubai is currently exhibiting the latest installments of an ongoing project titled, "Lebanese Rocket Society: Part III, IV, V" from filmmakers Joana Hadji Thomas & Khalil Joreige. The first two parts of the project showed at the Sharjah Biennial last March, which began the duo's exploration of the heady days of Pan-Arabism.
The Lebanese Rocket Society began at Haigazian University in Beirut in 1960 and ended only seven years later. In this time, however, a national identity was formed around the space race; stamps commemorating the Cedar IV rocket were even distributed during the time to celebrate Lebanese Independence Day.
Thomas and Joreige, who express interest in the deterioration of momentous sites over time, created a model of the rocket. Now they are revisiting the Rocket Project through a video and sound installation, a photographic series and a woven rug that looks like the now-famous commemorative postage stamp. The exhibition will even feature photographs capturing a reenactment of the rocket through Beirut's streets, so get ready to blast off!
"Lebanese Rocket Society: Part III, IV, V" will show at The Third Line until April 19.
All text courtesy of the Huffington Post. For the original article, click here.